Fes Tours (June 2022)
Jump to navigation
Jump to search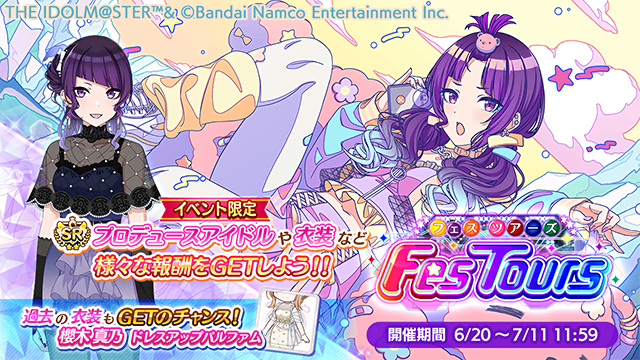 Event Duration: June 20, 2022, 15:30 JST - July 11, 2022, 11:59 JST
Event Type: Fes Tours
Tips
Having these cards in your Fes Tours units will grant additional effects.
You'll get Fes Tours point bonus by having these cards in your card list, the bonus multiplier increases with each special training.
[Sora Colorful, Ikusen no] Chiyuki Kuwayama, [Rouman Camera Zero-gou] Nichika Nanakusa bonus multiplier: 10%-15%-20%-25%-30%.
[Kore, Nan no Hanashi~?] Kogane Tsukioka, [Hello, Watashi no "Itsumodoori"] Yuika Mitsumine, [Kirikiri Kitan] Kiriko Yukoku, [Amenochi, My Hero] Kaho Komiya, [Mada…… Nenai kara……] Amana Osaki, [Tasogaredoki ni Aimashou] Chiyuki Kuwayama, [Aki no Minori no Haitatsu-gakari] Asahi Serizawa, [Niritsuhaihan sweet] Fuyuko Mayuzumi, [UNTITLED] Madoka Higuchi, [Re:BIRTH] Hinana Ichikawa, [A] Mikoto Aketa bonus multiplier: 2%-4%-6%-8%-10%.
Use 5 live items a day to get 1 Guaranteed-SSR Plus Gacha Ticket (1/10).
Daily Mission updates daily at 5:00 JST.
Deadline for receiving the reward is 24 hours.
| Mission Requirement | Mission Reward |
| --- | --- |
| Complete 10 Stages | [irodori-corridor] Mamimi Tanaka ×1 |
| Complete 20 Stages | [irodori-corridor] Mamimi Tanaka ×1 |
| Complete 40 Stages | [irodori-corridor] Mamimi Tanaka ×1 |
| Complete 60 Stages | [irodori-corridor] Mamimi Tanaka ×1 |
| Complete 80 Stages | Bronze Training Ticket ×5 |
| Complete 100 Stages | [irodori-corridor] Mamimi Tanaka ×1 |
| Complete 120 Stages | Sliver Training Ticket ×3 |
| Complete 140 Stages | Costume "Dress-Up Parfum" Mamimi Tanaka |
| Complete 160 Stages | Continue Ticket ×2 |
| Complete 180 Stages | Silver Training Ticket ×5 |
| Complete 200 Stages | Event Title (Stage) |
| Complete 220 Stages | Gold Training Ticket ×5 |
| Complete 240 Stages | Platinum Training Ticket ×3 |
| Win Extreme Live once | SR Gacha Ticket ×1 |
| Win Extreme Live 2 times | Hazuki Seal ×10 |
| Win Extreme Live 5 times | Memory Charm ×1 |
| Win Extreme Live 10 times | Continue Ticket ×2 |
| Win Extreme Live 15 times | Event Title (Extreme) |
| Use Live Items 20 times | Recovery Soda 1/2 ×2 |
| Use Live Items 40 times | Recovery Soda 1/2 ×3 |
| Use Live Items 60 times | Recovery Soda MAX ×3 |
| Use Live Items 80 times | Schedule Change Note (2 Pieces) ×1 |
| Use Live Items 100 times | Fes Tours Costume Ticket ×1 |
| Use Live Items 120 times | SR Hazuki (Produce) ×1 |
| Use Live Items 140 times | Bronze Training Ticket ×2 |
| Use Live Items 160 times | Premium Healing Fruit Tart (2 Pieces) ×3 |
| Use Live Items 180 times | Bronze Training Ticket ×3 |
| Use Live Items 200 times | Premium Healing Fruit Tart (3 Pieces) ×1 |
| Win Stage 80's Extreme Live | SR Hazuki (Support) ×1 |
| Win Stage 160's Extreme Live | Hazuki Seal ×40 |
| Win Stage 240's Extreme Live | Hazuki Seal ×50 |