L'Antica
Jump to navigation
Jump to search
L'Antica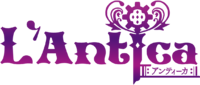 Shiny Colors unit data
| | |
| --- | --- |
| Name | アンティーカ |
| Translated | L'Antica |
| Agency | 283 Production |
| Image Color |      |
L'Antica is one of the units appearing in Shiny Colors, consisting of Kogane Tsukioka, Mamimi Tanaka, Sakuya Shirase, Yuika Mitsumine, and Kiriko Yukoku.
Hover over the text to see the original.

"Turn, the Rusted Key of Fate"
A revolutionary unit of the New World.
The flame smoldering in their hearts become a 'Song', their lonely tears become 'Wish'.
Clad in gothic dresses, they sing on for hope.
Their unit name comes from the Italian feminine form of "the antique".