Reroll Guide
Jump to navigation
Jump to search
Unlike most gacha games which require you to create new accounts and clear data to reroll, ShinyColors gets rid of all that nonsense and added a reroll gacha banner. With this banner, you can reroll as many times as you want until you get a desired roll. Just keep pressing the yellow reroll button! Only press the pink ok button when you are sure of your choice.
The card pool of the rerun gacha banner is the permanent card pool prior to the current gacha banner. This means there are no limited cards in this banner. If the current gacha banner features a permanent card, it will not be included in the reroll gacha pool until the next banner is implemented.
Accessing and Rolling in the Reroll Gacha
[
edit
|
edit source
]
The reroll gacha can be found in the gacha page, at the very top of the gacha list. To start rolling press the yellow button on the lower right part of the screen, as seen on the image: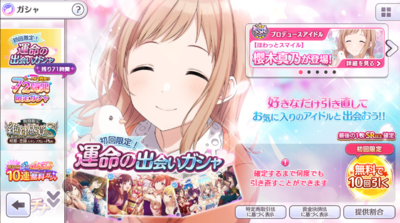 After getting the gacha results, if you are not satisfied with your roll, just press the yellow reroll button. You can skip the pull animations after pressing the reroll button by inputting this link into your browser: https://shinycolors.enza.fun/redrawGashaResult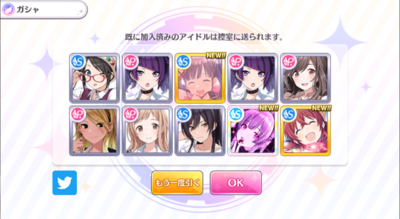 If you are satisfied with your roll, click the pink ok button. This dialog box will appear, essentially asking you if you are sure with your choice and telling you that you cannot access the reroll gacha page anymore once you confirm. If you are really sure with your roll, click the pink ok button, else click the blue cancel button to return to the gacha result screen.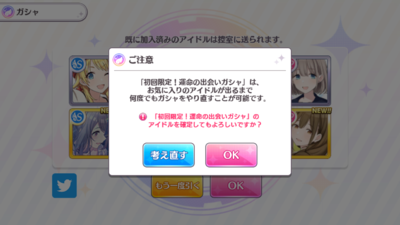 Generally when rerolling, the goal is to have at least one Produce SSR and one Support SSR. More SSRs are better but given the individual pull rates of each SSR, getting more than 3 SSRs can be quite difficult.
Below is a list of Produce and Support SSRs that you might want to aim for. Of course, if you already have an idol that you are eyeing for you are better off going for that idol's cards. If the current limited banner features your favorite idol, it would be wiser to roll on the limited banner first, before rolling on the reroll gacha.
But if you are undecided or if you just want to see big numbers early, check out the list below.
Also note that the initial P-SSRs (P-SSR1's) of the idols are given out as rewards for true end training, though you can only pick one of those cards. For more information, check out True End Training.
Idol Icon
(Unawakened)
Idol Icon
(Awakened)
Idol
Card
Available at
True End
Training
Description
Mano
Sakuragi
Sora o Hane
No
Her initial appeal has 2.5x Visual and 1.5x Vocal
as well as a +50 visual stat uncap at lb0 with
allowing her to be flexible in terms of Vocal and Visual teams.
Hiori Kazano
Seikan ni Iki o Hisomete
No
Same as P-SSR5 Mano but lacks a lb0 stat uncap and her initial appeal is dance and viusal.
Meguru Hachimiya
Hibi o Tsumugu Inverno
No
Same as P-SSR5 Mano but but lacks a lb0 stat uncap and her initial appeal is vocal and dance.
Sakuya Shirase
Otome to Kawasu Trick
No
P-SSR5 Sakuya provides a
hard-hitting, no-nonsense
3.5x Dance appeal that makes judges
slightly less likely to hit you,
along with a 50 dance uncap at 0-stars.
Natsuha Arisugawa
♡AKQJ10
No
Has 3x multiplier for her initial dance appeal.
Her appeal also fills up your memory gauge by 10%,
and an additional 25% when a link appeal procs.
Amana Osaki
Standby OK
Yes
Her 4x Vocal Appeal at full health can be strong
especially during the early stages of
auditions and fes, moreso with
a high vocal stat.
Amana Osaki
Yurayura Aquarium
No
Same as P-SSR1 Amana,
but with Visual focus instead of Vocal.
Amana Osaki
Kanaete☆Goldfish
No
Same as P-SSR1 Amana, but with Dance focus

instead of Vocal and has a +50 Dance uncap at lb0.
She also features a variation of P-SSR4 Chiyuki's
powerful memory appeal, which is described below.

Chiyuki Kuwayama
Harukaze Machi, Ichibanchi
No
Has 3x multiplier for her initial vocal appeal and also provides a damage-reducing shield.
Her memory appeal deals damage proportional
to how high your mental is.
Asahi Serizawa
Fukigen na Theme Park
No
Basically the same as P-SSR1 Fuyuko,

except she has the quality of life improvements

that more recent P-SSRs have

such as a +50 Visual uncap at lb0.

Fuyuko Mayuzumi
O♡Fu♡Re♡Ko
Yes
Has 3x multiplier for her initial visual appeal
and also provides two pairs dance and visual buffs
which can help boost your idol's appeal damage.
Fuyuko Mayuzumi
starring F
No
Has a 3x Vocal multiplier her initial appeal,

which also buffs your the strength of

your next vocal appeal by 45%.

She also has a +50 Vocal uncap at lb0.
Idol Icon
Idol
Card
Idea
Specialty
Description
Mano Sakuragi
Kokoro, En ni Narande
Vocal & Dance
A rare permanent dual stat support, with a focus on
Vocal and Dance. Her masteries are weak
at 0-star, but her ability to provide your produce idol
with the default S-SSR appeal
for both Vocal and Dance at the same time
at 0-stars combined with her own
dual-stat appeal makes her a strong
starting choice while getting the hang of WING.
Meguru Hachimiya
Up to You
Dance & Visual
The same as S-SSR8 Mano,
except her focus stats are Dance and Visual.
Mamimi Tanaka
Yaminabe Joutou
Visual & SP
She has Visual Mastery SP and Stamina which
lets you gain SP and replenish stamina
as long as your train with her
in the visual lesson room.
Mamimi Tanaka
Yoruyonaka Wanderlust
Dance & Mental
She can give your produce idol two dance appeals
at 0*: 2.5x and 2x respectively.
She also has Dance Mastery ME which grants you bonus ME
if you train in the dance room with her,
and Unit Master DA which lets her give you bonus dance
if your produce idol or any of your supports are
members of L'Antica.
Yuika Mitsumine
Hello, Watashi no "Itsumodoori"
Visual & SP
She has tension Mastery SP wherein
if your produce idol is at the highest tension,
she can give a decent boost to sp when you train with her
in a lesson room. Also gives out bonus Visual
if you are working with her in the radio room
due to her Radio Mastery VI.
Chiyoko Sonoda
Sakuramochi Master……?
Dance
She has perfect mastery, wherein
as long as she is in the training room with you
and as long as trouble doesnt happen perfect lesson occurs.
Also gives out bonus Dance if you are working with her
in the radio room due to her Radio Mastery DA.
Natsuha Arisugawa
GEKKAN CLIMAX
Vocal & SP
She gives out bonus SP if you are working with her
in the radio room due to her Radio Mastery SP.
Also has Unit Mastery VO which lets her give you bonus vocal
if your produce idol or any of your supports are
members of Houkago Climax Girls.
Amana Osaki
Okashi na Teatime
Vocal
Same as Yaminabe Joutou Mamimi, but with Vocal Mastery SP
and Stamina and that you should be training
with her in the vocal room.
Amana Osaki
Cherry Jelly
Visual
Same as Yaminabe Joutou Mamimi.
Asahi Serizawa
Ame, Yuki, Hare
Dance
She gives out bonus Dance and SP if you are training with her
in the dance room due to her Dance Mastery DA and SP
Fuyuko Mayuzumi
Spicy Berry Decorate
Visual
Same as Ame, Yuki, Hare Asahi, but with VI and SP
bonuses if you train with fuyu in the visual room
due to her Visual Mastery VI and SP.
Mei
Izumi
Enjoy! Party
Dance and SP
This card is basically a beefed-up version of Mellowbeat Slowdown Yuika,

a staple in early-game mono-Da WING runs.

While she won't have access to her powerful 4.5x appeal until much later

compared to Yuika, she still provides a good amount of support at lb0,

including Dance Mastery SP, Stamina Support and a +25 Dance uncap.

Toru Asakura
How Are UFO
Vocal
With her combination of Vocal Mastery Vo and Perfect Mastery,
she can be seen as a vocal version of Sakuramochi Master Chiyoko.
Madoka Higuchi
UNTITLED
Visual, Mental and SP
Radio Mastery Mental and Talk Mastery SP

are extremely good masteries for most WING builds,

even if the idol you are running isn't taking advantage of any

Visual appeals. Her lb0 passive kit is also pretty good

compared to other lb0 S-SSRs, providing a

+25 visual uncap where most older

S-SSRs would provide an off-stat uncap instead.