3.5 Anniversary Producer's Cup
Jump to navigation
Jump to search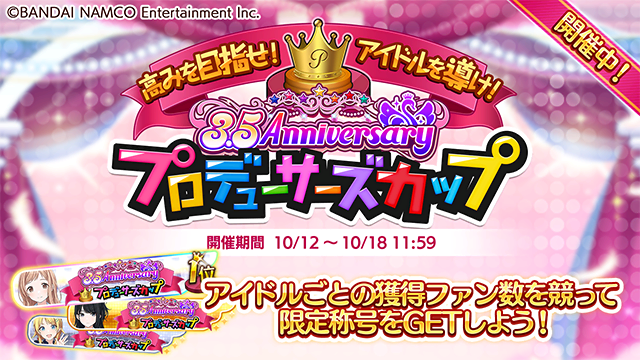 Event Duration: October 12, 2021, 15:00 JST - October 18, 2021, 11:59 JST
Event Type: Ranking Event
Tips
For New Players
There is a "break time" wherein any fans that you gained for any idol during that period will not be counted.
You will be able to set your break time to a time-slot of your choice.
There will be no break on the first day (October 12th) and last day (October 18th) of the event.
If you do not change your break schedule, the first break time is scheduled from 2:00 to 8:00 AM JST, October 13th.
If you wish to change your break schedule, you must do so before 23:55 JST of the previous day.
Depending on your current break time, some time-slots may be unavailable for the next day.
For Experienced Players
Ranking Rewards
Additional rewards can be earned based on how you rank compared to other players. Each idol has her own ranking.
Placement
Reward
1st~10th
Idol Specific Title (Platinum 1st~10th Place)
1 Idol's Unit T-Shirt
1 Platinum Training Ticket
50 Handmade Refreshments
11th~100th
Idol Specific Title (Gold)
1 Idol's Unit T-Shirt
2 Gold Training Tickets
40 Handmade Refreshments
101st~1000th
Idol Specific Title (Silver)
1 Idol's Unit Towel
1 Gold Training Ticket
30 Handmade Refreshments
1001st~3,000th
Idol Specific Title (Copper)
1 Idol's Unit Keychain
1 Silver Training Ticket
10 Handmade Refreshments
3,001st~10,000th
1 Bronze Training Ticket
5 Handmade Refreshments
Cumulative Rewards
Reaching certain thresholds during the event grants you additional rewards.
| Reward | Requirement |
| --- | --- |
| 3 Secret Notepads | 10,000 Fans |
| 1 Petit Tension Aroma | 20,000 Fans |
| 1 Trend Magazine | 40,000 Fans |
| 1 Trouble Charm | 60,000 Fans |
| 1 Morning Commu Bread | 80,000 Fans |
| 1 Recovery Soda 1/4 | 100,000 Fans |
| 1 Petit Tension Aroma | 150,000 Fans |
| 1 Gold Training Ticket | 200,000 Fans |
| 5 Secret Notepads | 250,000 Fans |
| 2 Healing Tart (2 Pieces) | 300,000 Fans |
| 2 Petit Tension Aroma (2 Pieces) | 400,000 Fans |
| 1 Recovery Soda 1/2 | 500,000 Fans |
| 1 Gold Training Ticket | 600,000 Fans |
| 1 Trend Magazine | 700,000 Fans |
| 2 Trouble Charms | 800,000 Fans |
| 2 Healing Fruit Tarts | 900,000 Fans |
| 3 Idol Commu Key | 1,000,000 Fans |
| 1 Recovery Soda MAX | 1,200,000 Fans |
| 1 Premium Healing Fruit Tart | 1,400,000 Fans |
| 1 Promise Toilette | 1,600,000 Fans |
| 1 Introductory Message Card | 1,800,000 Fans |
| 1 SR or Higher Gacha Ticket | 2,000,000 Fans |
| 1 Promise Parfum | 2,300,000 Fans |
| 1 Special Morning Commu Bread | 2,600,000 Fans |
| 3rd Anniversary Title | 2,830,000 Fans |
| 2 Petit Tension Aroma (2 Pieces) | 3,000,000 Fans |
| 5 Secret Notepads | 4,000,000 Fans |
| 1 SR or Higher Gacha Ticket | 4,120,000 Fans |
| 1 Promise Toilette | 5,000,000 Fans |
| 1 Trend Magazine | 6,000,000 Fans |
| 1 Schedule Change Note | 7,000,000 Fans |
| 2 Trouble Charm | 8,000,000 Fans |
| 1 Premium Healing Fruit Tart | 9,000,000 Fans |
| 1 Gold Training Ticket | 10,000,000 Fans |
| 5 Secret Notepads | 11,000,000 Fans |
| 1 Recovery Soda MAX | 12,000,000 Fans |
| 1 Promise Parfum | 13,000,000 Fans |
| 2 Schedule Change Note | 14,000,000 Fans |
| 1 Gold Training Ticket | 15,000,000 Fans |
| 3 Idol Commu Key | 16,000,000 Fans |
| 2 Trouble Charm | 17,000,000 Fans |
| 1 Gold Training Ticket | 18,000,000 Fans |
| 1 Trend Magazine (2 Pieces) | 19,000,000 Fans |
| 1 SR or Higher Gacha Ticket | 20,000,000 Fans |
| 2 Recovery Soda MAX | 21,000,000 Fans |
| 1 Schedule Change Note (2 Pieces) | 22,000,000 Fans |
| 1 Trouble Charm (2 Pieces) | 23,000,000 Fans |
| 3 Idol Commu Key | 24,000,000 Fans |
| 1 Premium Healing Fruit Tart (2 Pieces) | 25,000,000 Fans |
| 1 Schedule Change Note (2 Pieces) | 26,000,000 Fans |
| 1 Trouble Charm (2 Pieces) | 27,000,000 Fans |
| 1 Platinum Training Ticket | 28,300,000 Fans |