Amana Osaki
Jump to navigation
Jump to search
Amana Osaki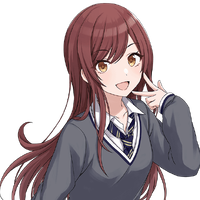 Character Data
| | |
| --- | --- |
| Name: | 大崎甘奈 (Oosaki Amana) |
| Voice actor: | 黒木ほの香 (Kuroki Honoka) |
| Age: | 17 |
| Height: | 159 cm |
| Weight: | 43 kg |
| Birthday: | December 25th |
| Blood type: | A |
| Three sizes: | 80-56-80 |
| Hobbies: | Shopping, Nails, Selfies |
| Skill: | Getting up early, Thriftiness |
| Likes: | ? |
| Handedness: | Right |
| Horoscope: | Capricorn |
| Hometown: | Toyama |
| Image Color: |      |
Signature

Amana Osaki is one of the idols that can be produced in THE [email protected] Shiny Colors. She is voiced by Honoka Kuroki. She is a center of the unit ALSTROEMERIA.
"I wanna do lots of fun stuff that I can only do now! Right, Tenka?"
Tenka's younger twin sister. An innocent cheerful and easygoing gal who will talk to everyone and never likes to be separated. She likes to put all her effort into enjoying things that she can't experience any other time. She is in her 2nd year of highschool, and the center of ALSTROEMERIA.
Click here for character specific commus.
Alstroemeria
Happy Lily
Bloomy!
Love Addiction

Spread the Wings!!
Multicolored Sky
Let's get a chance
SNOW FLAKES MEMORIES
Ambitious Eve
Itsuka Shiny Days

She also speaks in third person like her sister Tenka, by referring herself as 'Amana'.
For other official art and 2D outfit sprites, click here.