Chiyuki Kuwayama
Jump to navigation
Jump to search
Chiyuki Kuwayama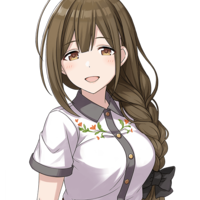 Character Data
| | |
| --- | --- |
| Name: | 桑山千雪 (Kuwayama Chiyuki) |
| Voice actor: | 芝崎典子 (Shibasaki Noriko) |
| Age: | 23 |
| Height: | 163 cm |
| Weight: | 47 kg |
| Birthday: | April 18th |
| Blood type: | A |
| Three sizes: | 89-58-92 |
| Hobbies: | Creating cute accessories |
| Skill: | Sewing, Giving directions |
| Likes: | ? |
| Handedness: | Right |
| Horoscope: | Aries |
| Hometown: | Yamaguchi |
| Image Color: |      |
Signature

Chiyuki Kuwayama is one of the idols that can be produced in THE [email protected] Shiny Colors. She is voiced by Noriko Shibasaki. She is a member of the unit ALSTROEMERIA.
As everyone's big sister, I must make sure to keep myself composed, I'll do my best as an idol♪
Chiyuki's gentle smile is impressive, making her feel like the big sister of the office. Her special characteristic is her calm appearance that gives her a motherly feel. She has skillful fingers, and her hobby is creating cute accessories.
Chiyuki is a gentle and reliable woman. Due to that, Tenka and Amana once said that she seemed to feel more like a mother rather than as a older sister. Before becoming an idol, Chiyuki worked in a general store. She can create cute accessories or stuffed animals and once decorated producer's desk with them with Tenka and Amana.
Click here for character specific commus.
Alstroemeria
Happy Lily
Bloomy!
Love Addiction

Spread the Wings!!
Multicolored Sky
Let's get a chance
SNOW FLAKES MEMORIES
Ambitious Eve
Itsuka Shiny Days

She was initially the oldest idol in Shiny Colors; until the introduction of Mikoto Aketa.
In one of the 4-panel comics, it is shown that Chiyuki is known as "bull-eyes Chiyuki" by shooting range shops due to always hitting the prizes in one shot.[1]
For other official art and 2D outfit sprites, click here.