Kaho Komiya
Jump to navigation
Jump to search
Kaho Komiya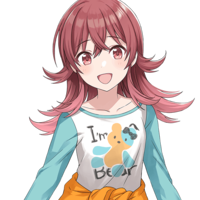 Character Data
| | |
| --- | --- |
| Name: | 小宮果穂 (Komiya Kaho) |
| Voice actor: | 河野ひより (Kouno Hiyori) |
| Age: | 12 |
| Height: | 163 cm |
| Weight: | 45 kg |
| Birthday: | July 29th |
| Blood type: | A |
| Three sizes: | 80-57-83 |
| Hobbies: | Watching Sunday morning children's TV, Collectibles |
| Skill: | Memorizing catchphrases from her favorite programs |
| Likes: | ? |
| Handedness: | Right |
| Horoscope: | Leo |
| Hometown: | Tokyo |
| Image Color: |      |
Signature

Kaho Komiya is one of the idols that can be produced in THE [email protected] Shiny Colors. She is voiced by Hiyori Kouno. She is the center of the unit Houkago Climax Girls
"I want to be an amazing, cool hero idol!!"
She is a sixth-year student in elementary school whose special characteristics are her grown-up appearance and tall height. She'll take up an interest with a pure look in anything, somewhat resembling a puppy. She is very fond of Tokusatsu (specially one called "Justice V" that she talks about a lot) and longs to be a hero idol. She is the center of the unit Houkago Climax Girls.
Click here for character specific commus.
Yumesaki After school
Taiyou Kiss
Beach Braver
Yorimichi Sunset

Spread the Wings!!
Multicolored Sky
Let's get a chance
SNOW FLAKES MEMORIES
Ambitious Eve
Itsuka Shiny Days

She's the youngest character in Shiny Colors.
She has a pet Shiba Inu dog called 'Mamemaru' (マメ丸) that appears in some of her cards.
Some of her in-game poses and voice lines are references to Kamen Rider OOO (especially his transformation pose).
For other official art and 2D outfit sprites, click here.