Sakuya Shirase
Jump to navigation
Jump to search
Sakuya Shirase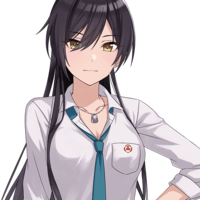 Character Data
| | |
| --- | --- |
| Name: | 白瀬咲耶 (Shirase Sakuya) |
| Voice actor: | 八巻アンナ (Yamaki Anna) |
| Age: | 18 |
| Height: | 175 cm |
| Weight: | 60 kg |
| Birthday: | June 27th |
| Blood type: | A |
| Three sizes: | 91-58-87 |
| Hobbies: | Going to different kinds of places |
| Skill: | Cool posture |
| Likes: | ? |
| Handedness: | Right |
| Horoscope: | Cancer |
| Hometown: | Kochi |
| Image Color: |      |
Signature

Sakuya Shirase is one of the idols that can be produced in THE [email protected] Shiny Colors. She is voiced by Anna Yamaki. She is a member of the unit L'Antica.
"I want to be someone who makes people's hearts flutter. I promise I'll give my all at being an idol!"
Sakuya is a former model who radiates an aura of "perfect". With perfect grades, skill in sports, and a beautiful appearance, she attracts fans naturally. She speaks in a mature, princely way and is prone to flirting with the other members of 283 Pro. More than anything, she enjoys making the people around her feel happy and good about themselves. Sakuya also enjoys giving her fans fanservice, because it makes them happy, which in turn makes her happy.
She was working as a model when she was scouted by the Producer, and decided to debut as an idol. She is in her third year of high school at an all-girl's school, and is very popular among the girls there.
Click here for character specific commus.
Babel City Grace
Genwaku SILHOUETTE
NEO THEORY FANTASY
Labyrinth Resistance

Spread the Wings!!
Multicolored Sky
Let's get a chance
SNOW FLAKES MEMORIES
Ambitious Eve
Itsuka Shiny Days

Sakuya lives in the 283 Production dorms.
She was raised by her father. Her mother whereabouts is unknown.
In the 4-koma, it is suggested that she is not good with insects.

She is also implied to be scared of heights.

Despite how much she flirts with others, Sakuya can get flustered when complimented in the same manner.

In a 4-koma, Kiriko calling her "cute" startled her enough that she went completely silent in disbelief.

She began working as a model in her first year of high school, meaning she's been a model for two years.
For other official art and 2D outfit sprites, click here.