Haruki Ikuta
Jump to navigation
Jump to search
Haruki Ikuta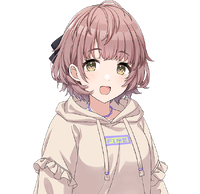 Character Data
| | |
| --- | --- |
| Name: | 郁田はるき (Ikuta Haruki) |
| Voice actor: | 小澤麗那 (Ozawa Rena) |
| Age: | 17 |
| Height: | 156 cm |
| Weight: | 47 kg |
| Birthday: | Apr 5th |
| Blood type: | AB |
| Three sizes: | |
| Hobbies: | |
| Skill: | |
| Handedness: | |
| Horoscope: | Aries |
| Hometown: | Nagano |
| Image Color: |      |
Signature
File:HarukiIkutaSign.png
Haruki Ikuta is one of the idols that can be produced in THE IDOLM@STER SHINY COLORS. She is voiced by Rena Ozawa. She is part of the trio unit CoMETIK, with Luca Ikaruga and Hana Suzuki.
Fufu~ Everyday is so satisfying (Song for prism)
An sentimental second year high school student with a fluffy atmosphere.
She also has a proactive and creative side.