Luca Ikaruga
Jump to navigation
Jump to search
Luca Ikaruga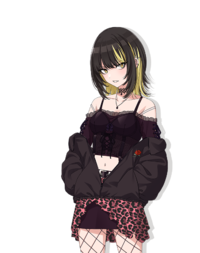 Character Data
| | |
| --- | --- |
| Name: | 斑鳩ルカ (Ikaruga Luca) |
| Voice actor: | 川口莉奈 (Kawaguchi Rina) |
| Age: | 20 |
| Height: | 161 cm |
| Weight: | 44 kg |
| Birthday: | January 31st |
| Blood type: | A |
| Three sizes: | 76-54-78 |
| Hobbies: | ? |
| Skill: | ? |
| Likes: | ? |
| Handedness: | ? |
| Horoscope: | Aquarius |
| Hometown: | Kanagawa |
| Image Color: |      |
Signature
Luca Ikaruga is one of the characters in THE [email protected] Shiny Colors. She is voiced by Rina Kawaguchi.
──I won't be used or cast aside… the only ones getting it are all of you.
A solo idol with a booming reputation. Gaining a cult-like popularity as the "Kami-sama" of troubled girls youths of today. She is hostile towards 283 Production for reasons currently unknown.
She used to be in a unit with Mikoto Aketa that failed. She thinks Mikoto's decision to join 283 Production in order to debut as a real idol is ridiculous.