Mano Sakuragi
Jump to navigation
Jump to search
Mano Sakuragi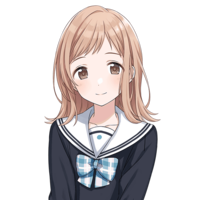 Character Data
| | |
| --- | --- |
| Name: | 櫻木真乃 (Sakuragi Mano) |
| Voice actor: | 関根瞳 (Sekine Hitomi) |
| Age: | 16 |
| Height: | 155 cm |
| Weight: | 48 kg |
| Birthday: | April 25th |
| Blood type: | A |
| Three sizes: | 86-58-88 |
| Hobbies: | Going out, Sun basking in the park |
| Skill: | Attracting birds |
| Likes: | Birds |
| Handedness: | Right |
| Horoscope: | Taurus |
| Hometown: | Tokyo |
| Image Color: |      |
Signature

Mano Sakuragi is one of the idols that can be produced in THE [email protected] Shiny Colors. She is voiced by Hitomi Sekine. She is the center of the trio unit illumination STARS.
"Just like the warm, sparkling sun, I want to spread smiles to everyone!"
Mano is a easygoing girl with a calm, kind, genuine personality and rarely gets angry or gives her opinion without being asked. Her demeanor often makes others want to protect her. She's not great at social interaction and often keeps her worries to herself and avoids large crowds. Wants to make her fans feel happy and warm like sunshine. A freshman in highschool.
The Producer first meets Mano in the park, where she is singing to attract pigeons. The producer notes how beautiful her voice is, and quickly asks her how she would feel about becoming an idol. Mano is surprised and nervous, stating that she doesn't have the confidence to become an idol, she just wanted to sing for the pigeons. She apologizes and runs away. Producer keeps visiting the park, and runs into Mano again. They talk about idols, and Mano decides that being an idol could help her change and gain more confidence. She then gives a self introduction, and begins her time with 283 Production.
Hiori and Meguru are the other members of Mano's unit, and her good friends. They support her and reassure her when she doubts herself. Mano admires Hiori's dedication, hard work, and drive, thinking it contrasts against her own easy-going traits. She worries about getting lost or overthinking things. Hiori is harsh with Mano at first and doubts her drive to be an idol. But at the same time, Hiori and Mano both fear that they are holding the other back. Later Mano confesses her doubts to Hiori, who realizes how similar they are. She apologizes for being harsh, and reminds Mano that they're all starting out as idols together, and can stand together. Meguru, meanwhile, is always positive and supportive of Mano. Mano gets personal dance lessons from Meguru to try to catch up to the other girls' skills. The three girls soon overcome their doubts and become a strong unit.
Click here for character specific commus.
Hikari no destination
Niji ni Nare
We can go now!
Triangle
Twinkle way
Happy Funny Lucky

Spread the Wings!!
Multicolored Sky
SNOW FLAKES MEMORIES
Let's get a chance
Ambitious Eve
Itsuka Shiny Days
FUTURITY SMILE
SWEET♡STEP
Shinography
Dye the sky.

Mano likes birds, specifically pigeons and is a full-blown pigeon magnet, attracting many of them.

She also has a pet pigeon, named 'Pii-chan' (ピーちゃん).

Mano knows about which plants are edible, due to her tendency to explore and get lost on her walks.[1]
Mano's catchphrases are "Mun!" (むんっ!) and "Howa~" (ほわ~).
For other official art and 2D outfit sprites, click here.